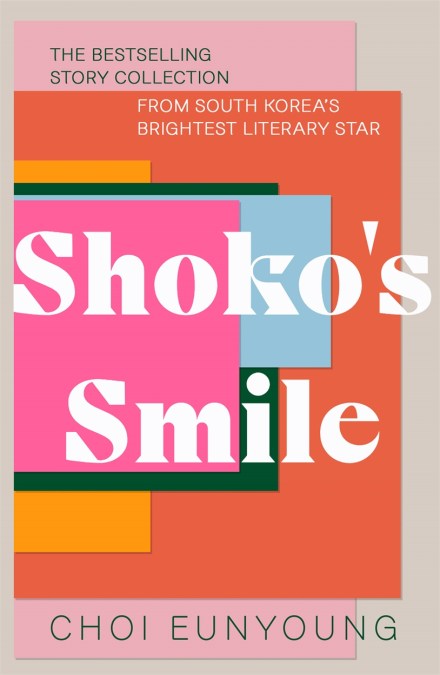 Title: Shoko's Smile (original title: 쇼코의 미소)
Writer: Choi Eunyoung (translated by Sung Ryu)
Publishing House: John Murray Press
Date of Publication: August 19th 2021 (first published July 7th 2016)
Rating: 5 stars
"I dig my hands into the cold sand and gaze at the black, shimmering sea.
It feels like the edge of the universe."
Who told you you can do what you want?
Who told you you are free to choose your studies, your career, your life?
Who told you you can fight against a past that you had no part in?
Who told you to defy -or even worse-try to alter society's image and expectations of you and every young woman in your position?
When the personal stands face-to-face with the political, when womanhood and democracy become tools in a corrupted agenda exploited by both sides, does the individual have to fight alone? In this beautiful collection by Choi Eunyoung, brilliantly translated by Sung Ryu, the answer is no. Togetherness is the synonym of survival.
"She flipped open the octavo sketchbook to reveal a series of simple crayon drawings. Some looked like splashes of colour, some were tiny doodles in the corner of the page. I noticed sloppy letters scribbled in crayon below every picture. Shoko pointed at the letters and read them aloud first in Japanese, then in English:
"Extinguished streetlight on a highway."
"Rotten, but only rotten, seed."
"Half-​­burnt sole of a foot."
"Soldier marching out of step."
"Dictator with no zeal."
"Antonym of typical."
"But . . . typical."
"The strange echo of the phrase: I knew this would happen."
"Pigeons pecking the ground to their last frozen breath."
Shoko's Smile: This is the moving, heartfelt, sensitive story of two girls. Their families, their dreams and ambitions, and the way they cope with that difficult thing called "life". One from South Korea, the other from Japan, the young women are much more alike than they think.
"In high summer, even past ten p.m., a little sunlight would linger in the atmosphere as if it were still dusk. I liked watching the light fade slowly, a bluish glow engulfing the landscape before me. When I felt the evening breeze blow in through the living room window, heard voices and peals of laughter from the adults in the kitchen, or peered at the sleeping face of Thuỷ who always dozed off around then with his mouth open, when the bluish glow drained of colour and one by one the streetlights came on, it hit me that I might one day miss this moment."
Xin Chào, Xin Chào: A Korean and a Vietnamese family befriend each other in Germany. Their children, a girl and a boy, become best friends. But the past is always around the corner and an inconsiderate, indifferent man is more than capable of tearing everything down.
"Miss Lee, be a good girl and save your energy for finding a husband. Take it from someone who knows. The world can screw you over even if you keep your head down, Miss Lee."
Sister, My Little Soonae: A poignant, solemn, moving story about a cruel state, judicial murder, a harsh, indifferent and frightened society and the bond between women. It will break your heart but it has to be read.
"I think of you as I watch the light reflecting off a glacier.
A hundred white nights.
Light intoxicates people but also keeps them awake. Here, my eyes are open yet I am dreaming. It is as if you are standing in front of that glacier, your body under the sun giving off a bluish hue. In this isolation with nothing but light, I intend to drill into the heart of Antarctica and discover the six hundred and fifty thousand years of memories etched into the ice. I know I don't have the courage or the strength to do it.
I've come here nonetheless."
Hanji and Youngju: I was so frustrated with this story. I was so angry that a young woman who finally decided to do what she wanted and stopped trying to fulfil her family's wishes, was let down by a man who just didn't deserve the trouble. I just want to forget that this story -beautiful as it is-ever existed.
"Is enrollment year some kind of medal? Is the prick who shows up every year, gets drunk, and picks on the youngest, weakest girl still my Sunbae? Shin Gyungsok, you say you love democracy? How can someone who has to tower over weaker people, even in this little group, go on about democracy? I bet a guy like you would feel right at home in a dictatorship. Even the idea of everyone being equal is beyond you, honestly."
A Song From Afar: The tender story of a deep bond between two scholars from Korea, the will to follow your path, the beauty of St Petersburg, the ache of loss and the hope that somehow never fades. A story of three strong women from different backgrounds, of their dreams and their reality.
Michaela: A beautiful yet terribly sad story about motherhood, loss and endurance with direct references to the Pope's visit to Korea and the terrible losses when the MV Sewol sank off the coast of South Korea on April 16, 2014.
The Secret: Another moving story of a family faced with the prospect of Death and the unbreakable bond between mothers and daughters.
"You shouldn't give away what's yours all the time. Or else you'll make a habit of giving and giving."
Many thanks to John Murray Press and NetGalley for the ARC in exchange for an honest review.