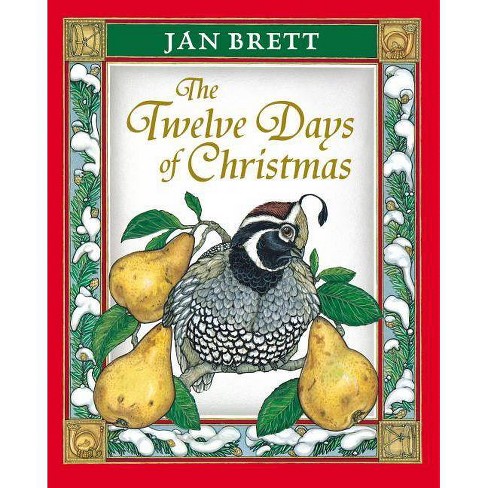 Title: The Twelve Days of Christmas
Writer: Traditional illustrated by Jan Brett
Publishing House: G. B. Putnam's Sons
Date of Publication: October 15th 2019  (first published January 1st 1986)
Rating: 5 stars
''And a partridge in a pear tree.''
Because, obviously.
When I start humming the tune of this most classic of songs, I know that I have finally entered the ''Christmas mood'' phase and all the hullabaloo of decorations, festivities and whatnot is about to be unleashed. When I was about 7 years old, this song was a part of our Christmas performance in English school. I fell in love with its strange lyrics (as I perceived them to be back in the day…) and its unusual melody. 
This book is a visual homage to the traditional song dedicated to the Twelve Days of Christmas, from December 25th to January 6th, the famous Twelfth Night, beautifully illustrated by Jan Brett. There is a melancholic aura of nostalgia for the good old Christmas days when everything was simple and true and kind. Less commercial, less frenetic, less artificial. The beauty of the love shared between two people, the gathering of the family, the coziness and warmth are perfectly depicted in this little treasure. 
Now, I can't wait to hear my youngest students practically screaming (bless them…) and a paaartridge in a pear treeeee.''
Because this is what Christmas is all about. The joy, the laughter, the love. Even if there are certain human beings who would rejoice if Christmas was…abolished. But that's another story, for another time…
Many thanks to  G. B. Putnam's Sons and Edelweiss for the ARC in exchange for an honest review.