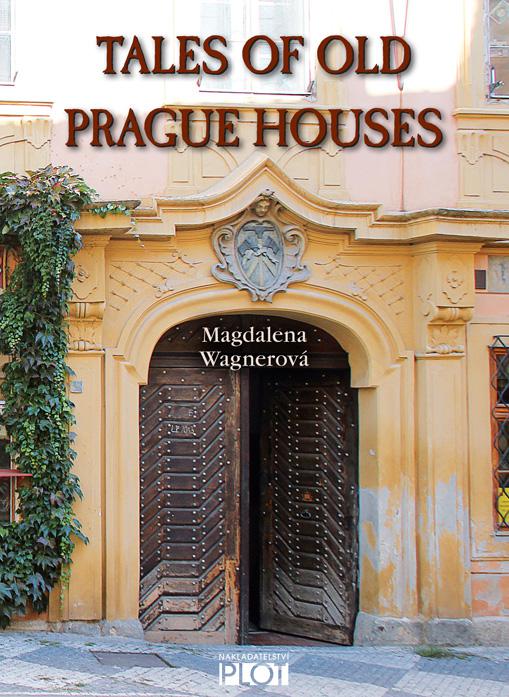 Title: Tales of Old Prague Houses
Writer: Magdalena Wagnerová (translated by Lucie Mikolajková)
Publishing House:  Nakladatelství PLOT
Date of Publication:2017
Rating:5 stars
''Every house has a story to tell and a history behind it. The old houses of Prague, once the home of plain townsmen and burghers, now seem to us like small palaces, enchanted and full of secrets. The air of times long past; the thick walls of bygone centuries; the narrow portals with their many house signs; the less than right angles, less than straight walls and windows that let in only a narrow shaft of light; suffused with history, rebuilt and transformed countless times over the years: all of this turns the old houses in Prague into magnificent, mysterious palaces hiding many secrets.''
Opposite the Karolinum bookshop, we can see a house delicate and imposing. Every day, my mum and I would stop for a cigarette outside our favourite shop and we would gaze upon the soft baby blue colour of the Millesimovský Palác located in Celetná, one of the most well-known streets in Prague. Prague isn't a legendary city solely thanks to its monuments. The houses that rise on every corner, adorned with beautiful facades, sculptures, and signs, have their own story to narrate to the visitor who is often unaware of the dark secrets that lurk behind the windows. Windows that seem to stare at you, measuring your steps. This book is a portal to the myths associated with 38 houses that helped in defining the unique character of the Golden City.
''Do not let us perish
Or our successors
Oh Saint Wenceslaus''
The Rott House, standing proudly, adorned with beautiful earthy colours and elegant inscriptions, is the birthplace of the first Czech Bible, produced in 1488 by Jan Pytlik. The story of the Faust House is completely opposite, rumoured to be a cursed place where sulphuric odours, mysterious lights and a cruel fate that struck each one of its owners bring to mind Goethe's masterpiece. In the House of the Lords of Kunštát and Poděbrady, the shadowy figure of a young man who fell desperately in love with a young woman appears out of nowhere and quickly fades into thin air. Another lovelorn young man haunts the premises of the Platýz House, searching for his beloved.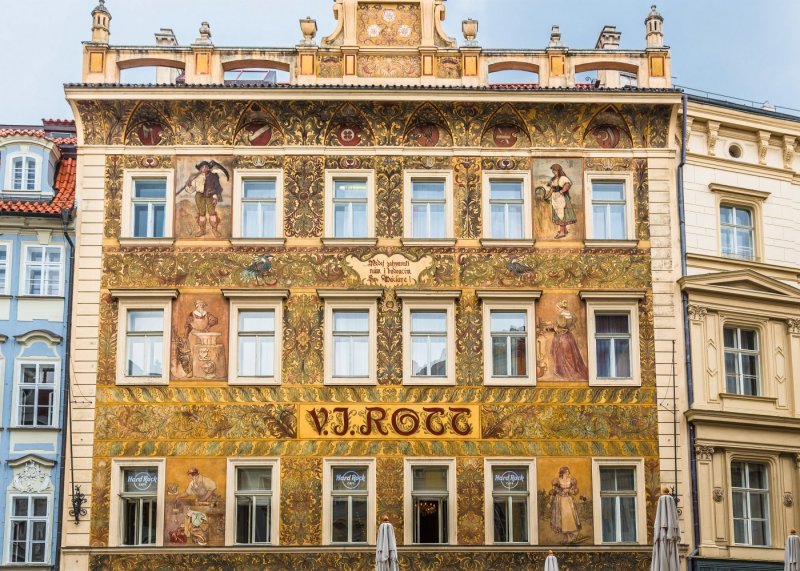 The Rott House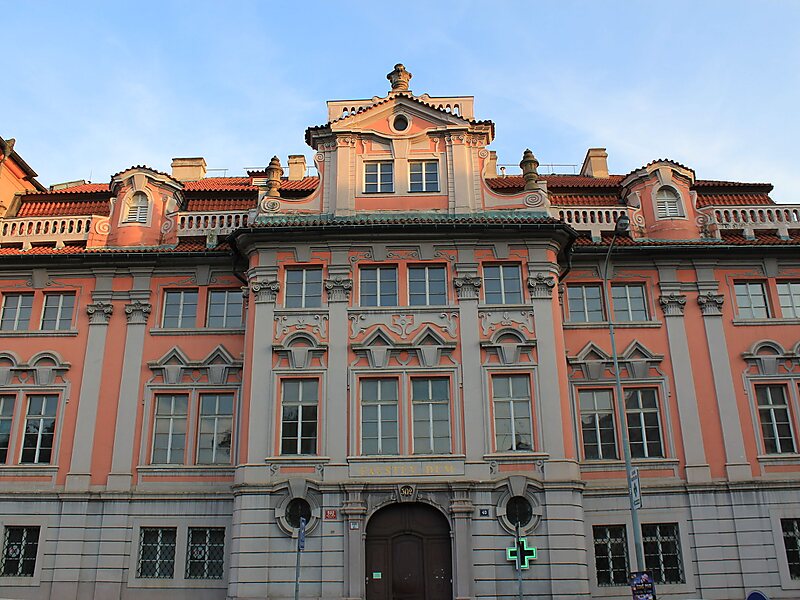 The Faust House
An owl circles a few times over Sova's Mills, on the island of Kampa. It is the daughter of a bricklayer, punished for her partnership with the Devil. Having witnessed it first hand, I swear that the Devil's River is a haunting wonder. When nightfall comes and you find yourself wandering its narrow streets, you cannot help but looking over your shoulder in case there is anything shadowy following you. The Storch House, one of the most impressive buildings in the centre of the Old Town Square, housed a publishing company and a puppet theatre. Its beautiful facade depicts Saint Wenceslas victorious. The House of the Eye of Providence sees all. In Celetná, you need to be careful because the House of the Black Madonna can be easily missed, and Our Lady with the Holy Child are there to greet you. Reminiscent of the pagan symbols of fertility, it stands as a unique reminder of the relationship between the present and the past, guarding your steps.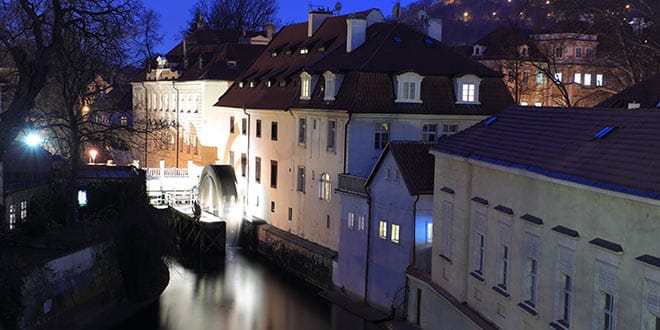 Sova's Mills, Kampa
The Storch House
The House of the Black Madonna
We won't leave Celetná just yet. The House of the Black Sun is a reminder of the wealthy alchemical, mystical past of the city. As a result of its former owners' delvings with the Occult, rumours of moanings, screams, disembodied figures watching the passers-by and strange chants provide an aura of mystery to the formidable building. How can anyone omit to refer to the famous House At the Minute, close to the Astronomical Clock, where Franz Kafka spent his childhood? And in Hradčany, the House At The Golden Tree boasts an impressive array of no less than ten unique apparitions…
And this is only a moderate selection of the legendary houses of a city that has been born through the pages of a dark fairy tale…
''Quiet and empty is the bumpy, unpaved ground of the Loreta Square, before the Manor house of the Counts of Czernin. This vast, awe-inspiring giant of a palace stands isolated, as a poor wretch condemned to a life in the desert; its countless empty windows gaze in longing on the passers-by, but none will come to the rescue. Those few who wander in here will do so out of mere curiosity or mild compassion; and so the lonely behemoth has no other consolation but the melancholy chime of the Loreta bells and the devout prayers of the Capuchins nearby.''
''Yes, I have seen you, my city, with your sad and troubled history, and have drunk the sweet and bitter cup of life in your streets; I know you, my Prague, and I sing your praise.''
               Josef Kajetan Tyl
*All photos taken by me in August 2019*