The Amber Princess
Today's journey brings us to one of the most beautiful countries of our planet: Lithuania. This is a tale of the Baltic Sea and a doomed love…
(Jūratė – monument in Jurata, Poland)
Brave and beautiful Jūratė lives under the Baltic Sea in a palace made of amber. She is the daughter of the Storm King, the powerful Perkūnas, the thunder god, and longs to know the world beyond her kingdom.
One day, she finds herself in the nets of a young fisherman. Instead of being afraid, Jūratė starts asking him questions about his life, about fishing and the human world. The fisherman, Kastytis, is an honest man and a dreamer, like Jūratė. He sets her free and the two meet every day, sharing their knowledge. Jūratė narrates stories of her glorious domain and Kastytis answers her questions about the cities and the villages and the life above the sea. But how can they be together?
-I can't swim, Kastytis tells her, how can I breathe under water? Come with me and I'll show you my world.
-I'd die in your world, Jūratė replied. Too long in the sunlight and I'd wither away.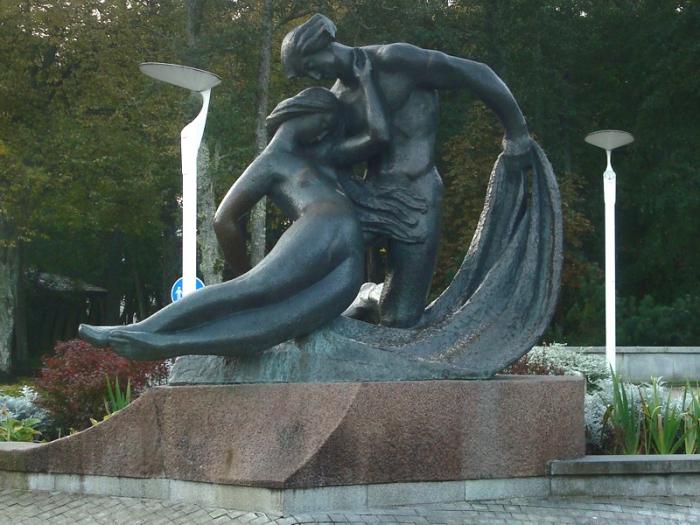 (Jūratė and Kastytis sculpture – Palanga, Lithuania)
The Storm King has spies and Jūratė's adventures become known to him. Perkūnas forbids her to ever approach the world of men again but the princess refuses. Her father's wrath is terrible. Kastytis dies in a terrible shipwreck, leaving Jūratė weeping for her lost love…
Now, this is where the versions of the tale differ. According to a number of tales, Jūratė rescues Kastytis from Perkūnas' rage and the palace is destroyed, its amber pieces washed ashore, giving birth to the Baltic gold. In other versions, amber is created by the endless weeping of Jūratė.
This is the legend of Undine with a very interesting twist, the creation of amber, one of the most beautiful gifts of nature. Lithuania is considered the mother of amber (called gintaras by the Lithuanians) Amber has been associated with remarkable qualities and is believed to help us achieve emotional balance. It is used as a talisman of good fortune and protection against negativity and hateful people. In China, it is called ''the soul of the tiger'' and symbolizes courage and safety during travelling.
The story of Jūratė is beautifully narrated in the collection The House of the Cats by Maggie Pearson, a volume of tales from the countries of the European Union.
Find out more about the myth in this beautiful post THE LEGEND OF JŪRATĖ AND KASTYTIS
P.S.I need to plan a trip to Lithuania as soon as possible…