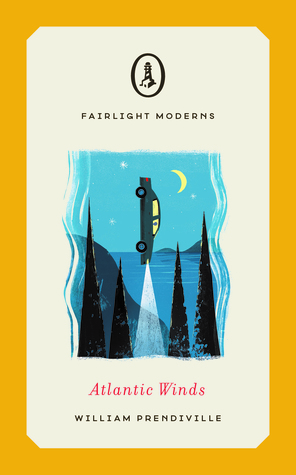 Title: Atlantic Winds
Writer: William Prendiville
Publishing House: Fairlight Books
Date of Publication: July 11th 2019
Rating: 5 stars
''Αutumn came to Bear Lake late that year, and in November a relative mildness still lingered, before the shock of winter. The snows had not yet come, but it was nevertheless still bracing enough by Guy Fawkes Night for everyone to move closer to the bonfires crackling about town, sending up bursts of cinder. Scattered fires were lit in backgrounds across Bear Lake, fed by dried woods, boxes, long branches and all the old furniture that the town cleared itself of once a year, in varying conflagrations.''
Tom lives in a quiet neighborhood on a peaceful island in Canada during the 70s. It is a time of change and yet little of it bothers Tom who seems to be the typical teenager, trying to make it through school, hanging with Cormick, his best friends, and most importantly, struggling to find the courage to speak to Sasha, the girl who owns his thoughts day and night. Underneath the seemingly idyllic community, things are not that simple…The mill is the power that sustains the local economy and the troubles are many. A suspicious incident, characterized as an ''accident'', and a boy that seems tailor-made to spend his life behind bars will throw everyone's lives in disarray.
Now, one may think ''what could possibly happen in 90 pages, given the premise''? My answer is: Everything. These 90 pages took me on very special, organizing literary journey. Prendiville writes about Tom and Sasha's gradual awareness of what it means to enter the world of the adults. It is not a simple coming-of-age story but a psychological and social study of the damage caused by harassment, lack of understanding and a twisted notion of duty that is enforced on young women, destroying their lives and their dreams.
I cannot say much because every little hint may be a spoiler that will damage an end that will leave you staring, in agony. But I can guarantee you that you will fall in love with Prendiville's writing. He paints autumnal and summer evenings, the quiet night and the hazy mornings in the small community. The characters are vivid, teenagers that find themselves burdened with the worries of the adults, young girls who discover what it means to threatened and harassed by men. In a claustrophobic community that pretends to be idyllic but hides secrets and falls in the trap of gossip and slander. Throughout the course of the action, you will be able to feel that something is brewing, something is definitely wrong.
The real protagonist of the novella is Sasha, a quiet, brave girl that wants to be left in peace. She is a character I deeply connected with. You may see yourselves in her. I know I did and this is why I am still angry with Prendiville…
I've said enough. Read it and feel the power of beautiful writing.
''The autumn night covered the night like a black kettle and you could already smell winter high up in the air.''
Many thanks to Fairlight Books and NetGalley for the ARC in exchange for an honest review.