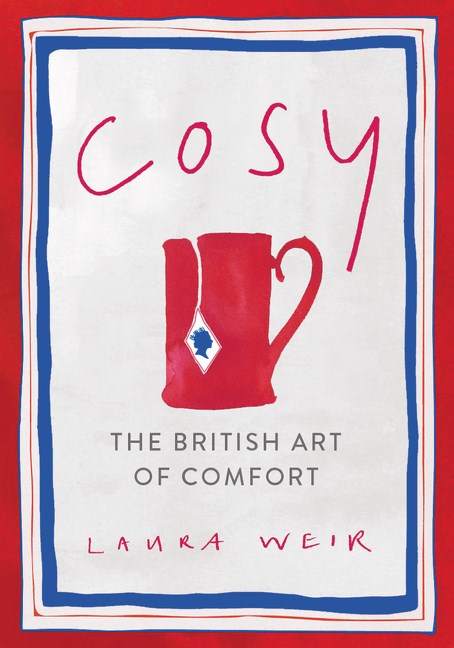 Title: Cosy: The British Art of Comfort
Writer: Laura Weir
Publishing House: HarperOne
Date of Publication: November 5th 2019
Rating: 1 star
How does each one of us define coziness? For me, it's comfort and warmth regardless of the season. A mug of chocolate, a book and the caramel glow of a dimly lit room reflecting on the window. Others prefer blankets, socks, and food that comforts and warms our souls when everything seems dark. In this book, the writer wanted to describe and possibly define cosiness supposedly through the habits and familiar features of the British way of living. However, I think that there was a multitude of problems. Despite the inclusion of By an Autumn Fire by Lucy Maud Montgomery and the Q&A with Liz Nelstrop from the National Trust, I can only describe the overall experience of reading Cosy as ''annoying''. And ''irritating''. And it lowered my IQ and I hate that.
The issues had a common denominator: the way Weird chose to comment and demonstrate her ideas. Please, note that this is strictly my personal opinion and I am quite an abrupt, opinionated person but there were certain things here that I simply couldn't stomach. For example, I don't think the comparison between staring at the flickering candlelight and unhooking a bra is a successful one. It's cheap, its origins can be traced in ridiculous glossy magazines. It spoils the atmosphere, it is vulgar and inappropriate.
Many times, she comes across as terribly posh and a plain poser. I don't care about her background, I care about her attitude and her attitude is awful. Cosy isn't about being pretentious. At least, it shouldn't be. And why did she feel the need to demonstrate the opinions of fashion designer, beauty experts and… beauty entrepreneurs (I don't even know what this means and I don't care to find out…) in what ''real cosy'' means? Aren't people with actual, real, useful jobs enough? How about asking writers, poets, and artists? All we miss are uneducated models and football stars to complete the cringe-fest. Also, eating pasta in the bath? Come on…As we say in my country, we weren't born yesterday so don't feed us your idiocies. Furthermore, her comments on coffee were ridiculous. Just because you don't like it, it doesn't mean you have to be dismissive and downright rude to those who enjoy it. I could say that tea looks and tastes like perfumed urine but I am trying to keep a certain level of quality here…You know. The quality that is terribly absent in Weir's scribbles.
Although she repeatedly states that there are ''no patterns to follow'', she keeps on repeating the same old cliches. Not to mention that the Acknowledgements section is one of the most cringe-worthy texts I've ever read. Apart from very few moments of successfully created cosy atmosphere referring to the beauty of the British countryside and urban scenery, the writer fell victim of her pretentious commentary that resulted in her showing off. I won't sugar-coat it and I'm afraid I am not convinced. And I certainly don't trust someone who blatantly admits, nay boasts, of reading approximately 7 books in a year (!) and includes a…cookbook (!!) in the list with her so-called finest ''cosy'' reads. No. A big NO.
Many thanks to HarperOne and Edelweiss for the ARC in exchange for an honest review.