Title: ΡΩΣΙΚΕΣ ΠΑΣΧΑΛΙΝΕΣ ΙΣΤΟΡΙΕΣ
Writer: Various edited by Laura Averbukh
Publishing House: ΝΑΡΚΙΣΣΟΣ
Date of Publication: March 2005
Rating: 5 stars
''Yes…today there is happiness…'', Ieronimus said in a weak voice, like a sick man who has just started recovering. ''There is joy in the heavens and the earth, even in Hell itself. The whole creation rejoices. Yet, tell me, good sir, why is it that a man cannot forget his sadness?''
In my household, we've always celebrated Easter twice. We still do, honouring my grandma's Italian heritage and in accordance with the Orthodox calendar, both Orthodox calendars, in fact. It has always been my impression that the Orthodox Easter is extremely unique. Common customs exist in Greece, Serbia, Russia. The colourful eggs and the friendly competition of the cracking in the night of the Great Day. The delicious sweets, the haunting atmosphere commemorating the Passion of the Christ during the Holy Week. Russian writers are as unique as the celebrations. In Russian, the Short Story genre found the masters and flourished. This collection is a token of the greatness of Russian Literature.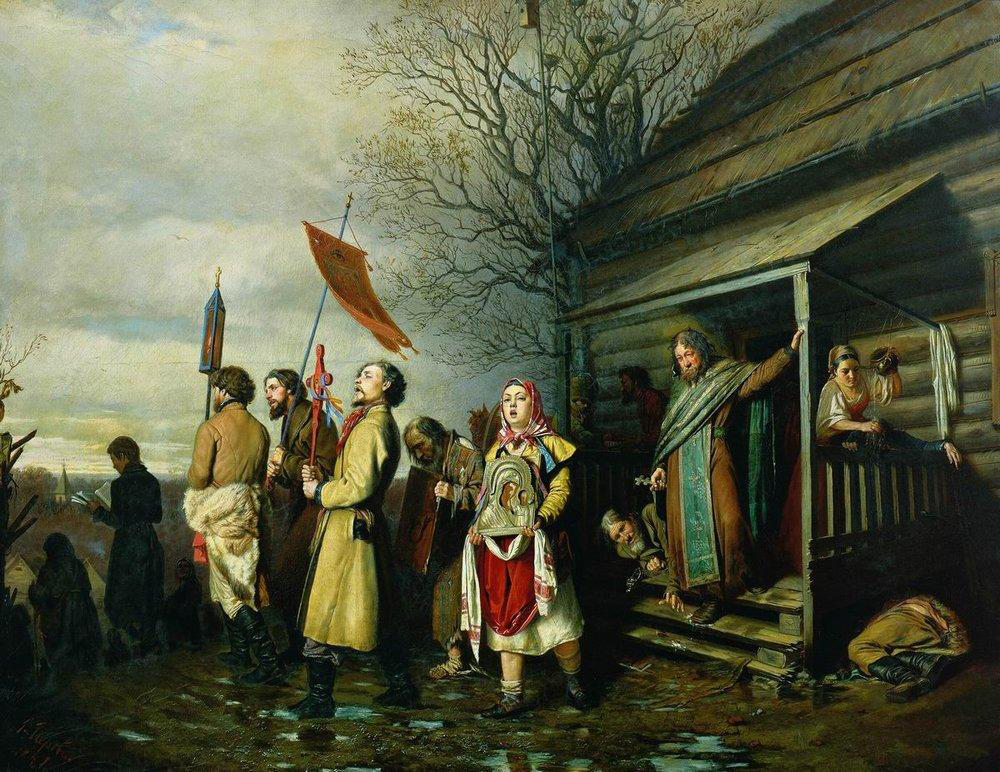 Vasiliy Perov. "Religious procession in a village at Easter" 1861
Nikolai Rerich. "Russian Easter" 1924
''This is nonsense. Let them fight. They've always been fighting and they will go on fighting. No one is going to come to his senses. But dying during the Lent, the Holy Week or even on the very day of Easter….this, gentlemen, does not happen easily.''
The simple people, the people of the land and the toil. Scholars and soldiers, women of the countryside, men of the church, villagers and wealthy citizens of the great cities. Celebrating the joyous message of the Resurrection but for many, the Passion of the Holy Week goes on and on. Poverty, sickness, and death are always somewhere and the satire – a favourite style of numerous Russian writers- emphasizes the bitterness and the hardships of the Russian people that wait and wait for the rising. And when the rising came, the torment did not end. But that's another story for another time and another book.
Ilya Kaverzniev. "Easter Sunday". 2005
Chekov, Gogol, Korolenko, Kuprin, Bunin, Averchenko, Zoshchenko, Solzhenitsyn. Let a few of the greatest Russian writers show you the joy and the sorrow of the Russian Easter of the past. Through the Lent and its customs, the devotion of the Holy Week, the hope of the Resurrection. The discriminations, the unfinished works, the Holy Night, the bell that reveals the sins of the so-called righteous. The last spring before the war…
Germashev, Mikhail Markianovich (1867-1930) "After matins"

''The house was dark, the light from the fireplace was illuminating the hall. The melancholy of the wintry dusk, the snow, the desolation, the loneliness…We were drinking tea, when the host said, ''On Easter, the people expect peace.''
When we left, in the moonlit night, the half moon was bright. The shadows of the dead trees fell on the snow and the small spaces between were glimmering like precious stones. You could see the shadow of the smoke coming from the chimney. Behind the garden, in a bright empty field, there was a lonely pile of snow as hard as stone.''
*All excerpts translated by me, taken from the Greek edition of the collection translated by Dimitris Triantafillidis.*
Nayderov, Ivan Vladimirovich (1872-1949) "Maundy Thursday"

image sources: http://expositions.nlr.ru/
https://www.rbth.com/multimedia/2015/04/10/easter-paintings_94405