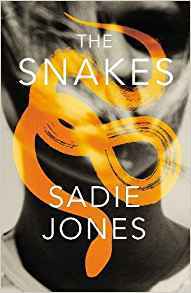 Title: The Snakes
Writer: Sadie Jones
Publishing House: Random House UK
Date of Publication:March 7th 2019
Rating: 4 stars
''We were a family and now we're not any more. We're the wrong number. It's all wrong. I can't cry. I can't.''
The times we live in are uncertain, turbulent, obscure. Financial insecurity, fear caused by leaders who dream of generating the Third World War, Nazi and Soviet sympathizers in power, presidents who believe themselves to be modern sultans, members leaving the Union they fought hard to form. Utter degradation of every basic human value, absence of feelings, absence of respect. This is our world today. This is the world that seems to suffocate Bea and Dan, motivating them to find some form of escape. The young Londoners travel to France to aid Alex, Bea's brother, with his ''duty'' in an almost run-down hotel. Little do they know…
One needs to tread carefully because almost 50% of the novel is set upon a trap of spoilers. The themes and the consequences of the characters' choices are irreversibly linked throughout the story. To begin with, the first chapter is striking. It immediately attracted my attention, it was the perfect introduction. In Part One, I felt that the motif was inspired by the Seven Deadly Sins, a prominent decoration in the hotel with no guests. A hotel whose only occupants are dust and snakes. The reptiles can be heard during the night, an ominous sound, a threat that cannot be seen, unpredictable and deadly. A symbol of suspicion and treachery, the fragility of a marital relationship and the influence of the parents and the social background.
What I perceived to be a prominent question was the significance of money and social influence was our goals in life. What about those of us who believe that there are values more important and crucial than material wealth? Are we weak? Are we lacking in ambition? We hardly care. This is who we are. This fight is successfully depicted in the clash between Bea, an extremely well-written protagonist, and Griff, her father, one of the most horrible characters, a truly despicable man.
Despite the undoubtedly sensual, dark prose, there were a few problems that became noticeable soon. On a personal level, I was almost offended by the writer's nihilistic and dismissive views on religion. As someone who believes, I felt Jones included a derogatory monologue for the sake of serving a ''modernity'' that calls for the rejection of anything that has to do with spirituality. Yes, by all mean, do worship your new mobile phones. They're so important…What logic is there? Am I not educated? Am a less adequate reader because I am a Christian? This is utter bullshit. Next time, place a special sticker on the cover, stating ''I don't want my books to be read by Christians.'' And as a reminder, the Seven Deadly Sins weren't created by themselves, Sadie Jones.
I couldn't understand what was the need for the emphasis on Bea's presumably less- than- perfect external appearance. It didn't feel ''literary'' but a cliché derived from a boring thriller. There was too much swearing and, frankly, the book was too long. 100 pages less would have been ideal with better-placed dialogue and a more careful linking of the themes. I believed I was about to read a literary social commentary. At worst, a literary thriller. I was extremely attracted to it and its dark tone. And then, it became a rich family soap-opera, complete with the subjectively neglected husband trope and I grew cold. And bored. I am not interested in parties, estates, and inheritances. However, Part Four was very good. A number of subplots remained unresolved but the ending was astonishing. Absolutely shocking. You'll have to read it to experience how powerful it is.
So, I admit I am conflicted about the rating. With the exception of Part Three, which was pretty bad, this is a hypnotizing novel. It lures you and it's difficult to detach yourself even though you know you won't end up loving it completely. I think it will be one of the most talked-about novels of the year and despite the issues I faced, it has stayed with me. This speaks for itself. I feel that 4 stars is a fair rating.
Many thanks to Random House UK and NetGalley for the ARC in exchange for an honest review.