Title: Χριστουγεννιάτικες ιστορίες
Writer: Hans Christian Andersen, Nathaniel Hawthorne, Fyodor Dostoevsky, Dylan Thomas, Elizabeth Bowen, Vladimir Nabokov, John Updike, Michel Tournier edited by Κατερίνα Σχινά
Publishing House: Ερατώ
Date of Publication: November 2001
Rating: 5 stars
''One Christmas was so much like another, in those years around the sea-town corner now and out of all sound except the distant speaking of the voices I sometimes hear a moment before sleep, that I can never remember whether it snowed for six days and six nights when I was twelve or whether it snowed for twelve days and twelve nights when I was six.''
One more short stories collection that kept me company this beautiful Christmas, an absolute beauty. Seven stories set on the most beautiful time of the year written by seven of the most important writers that have ever graced our culture. A lot of adjectives in the superlative degree, I know, but this is a collection that deserves to be read by the ones who love quality Literature. Stories that are sad, mysterious, funny, nostalgic, haunting, bitter, sacred…
The Last Dream of the Old Oak by Hans Christian Andersen: A beautiful, sad story of the right to dream and hope, of stormy nights and a life that has seen too much…
(Death comes to the table, by Giovanni Martinelli)
The Christmas Banquet by Nathaniel Hawthorne: One of the most haunting, exciting stories by the great master of the Gothic. Would you attend a dinner where the guests would be the saddest people in the world?
The Heavenly Christmas Tree by Fyodor Dostoevsky: A typically Russian, haunting story of bitterness, cold and hope by the greatest author of all time.
The Cheery Soul by Elizabeth Bowen: A jewel! At turns mysterious, hilarious, creepy but always atmospheric with a supreme ending that will have you puzzled as Hell. Brilliant!
A Child's Christmas In Wales by Dylan Thomas: A great poet with a natural sensitivity and beauty, this story is included in its entirety in the collection. Nostalgia and the innocence of childhood, a journey to an era that is now lost…
The Christmas Story by Vladimir Nabokov: Politics, propaganda, and misery never stop when you're dealing with tyrants. One of Nabokov's finest moment in a satirical albeit poignant condemnation of the Soviet nightmare.
Christmas Carols by John Updike: The only dud in the collection, a story focused on sex with an absurd dose of misogyny. It is clear that Updike and I aren't compatible…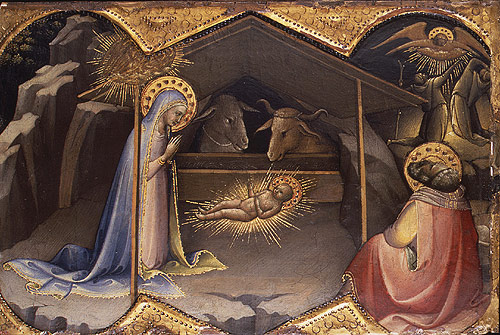 (The Nativity by Lorenzo Monaco c. 1409)
''Soon the Son will be taken to slaughter by His own Father. And I assure you that this time no angel shall prevent His Hand. From now on, everywhere, to the smallest island of the Earth and every hour of the day until the end of time, the blood of the Son will grace the altars for the salvation of man. The ass and the ox do well to warm this newborn sleeping in the cot, for He is truly a Lamb, and He shall be the only Lamb to the slaughter, the Lamb of God, and He alone will be sacrificed for all the centuries to come.''
(*Translated by me from the Greek edition*)
The Ass and the Ox by Michel Tournier: The story of the Nativity through the eyes of the donkey that carried the Virgin Mary to Bethlehem and the touching presence of the Archangel Gabriel. A moving, solemn story full of beauty and hope.
Although this is an anthology published by a Greek publishing house and written in Greek, you will be able to find the short stories easily. Please, do so. They are full of the true spirit of Christmas in its most human and real form.
''Looking through my bedroom window, out into the moonlight and unending smoke-coloured snow, I could see the lights in the windows of all the other houses on our hill and hear the music rising from them up the long, steadily falling night. I turned the gas down, I got into bed. I said some words to the close and holy darkness, and then I slept.''
Υπέροχη δουλειά από τις εκδόσεις ''Ερατώ''.
Υ.Γ. Αναφερόμενη στις ανεκδιήγητες βαθμολογίες της σελίδας του βιβλίου στο Goodreads και παραβαίνοντας τον προσωπικό μου κανόνα να μη σχολιάζω τις κριτικές άλλων, θα ήταν καλό ορισμένοι να καταλάβουν οτι το ''Χριστουγεννιάτικο πνεύμα'' δεν είναι μόνο λαμπιόνια, γλυκά, μπουζούκια και ηλιθια τηλεοπτικά σόου στο Σκαι ή όπου αλλού υπάρχουν…Και η ασχετοσύνη έχει τα όρια της…Μέχρι Δημουλίδου και Μαντά και πολύ σας είναι…