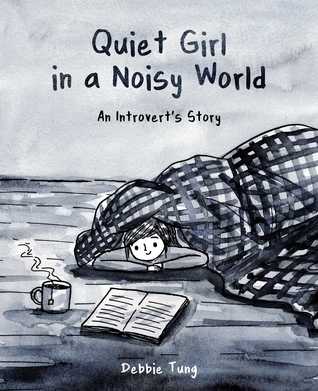 Title: Quiet Girl in a Noisy World: An Introvert's Story
Writer: Debbie Tung
Publishing House: Andrews McMeel Publishing
Date of Publication: November 7th 2017
Rating: 5 stars
Two weeks ago I read Book Love by Debbie Tung and I adored it. I couldn't wait to read Quiet Girl in a Noisy World, a beautiful work of Art that depicts the special, demanding nature of the ''introverts'' who have to put up (personally speaking) with a world that likes to talk too much, rarely saying anything meaningful…
Motivated by my own hesitation to ask questions, I learned to ''read'' my students' eyes. I know when they have difficulties and questions. Unlike my own teachers who used to say that I was too quiet and it wouldn't do me much good, even if my grades were perfect. Thank you, teachers, I hate you too. You didn't do much to help, by the way. You sucked big time!
At the age of 20, I realised that I shouldn't have forced myself to interact with toxic people just because we had known each other since primary school. I decided that I wouldn't go to parties of people I hated just because all my friends would be there. Thus, I found who my real friends are, the ones who accept me as I am. The ones who respect my wish to stay home with a book instead of going to the cinema (which I hate).
Through the support of people very close to me, I found the strength to participate in group projects and to speak my mind. To firmly stand behind it when I was convinced I was right. To reply to any condescending remarks that sounded like ''aren't you a bit too quiet'' with a ''I'm surprised you noticed, you are awfully loud'' kind of line that sends any f….to immediate silence.
I cut off potential relationships when I visited houses devoid of books. Houses without souls, occupied by people who were empty. I hate small talk with people I don't know. However, I can talk for hours with those who are special to me. We ''introverts'' aren't stubbornly unresponsive. It's just that we prefer to talk to the ones who really matter to us, about subjects that concern us. I will never engage in a discussion about politics, TV, films or fashion. I couldn't care less. But if there is a discussion about books, sports, History, I forget to stop.
I relived these moments through Tung's marvelous book. Through her cozy, whimsical illustrations she takes us on a beautiful, heartfelt journey to the unique world of those of us who are traditionally called ''introverts''. I prefer to use the expression ''silent thinkers''. And be proud of it…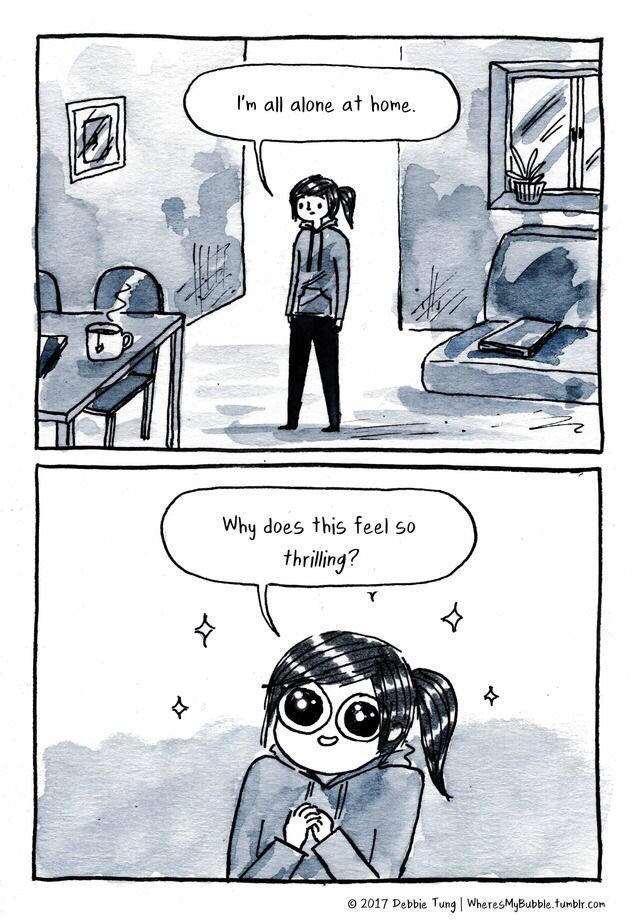 * All illustrations by the amazing Debbie Tung *
My reviews can also be found on  https://theopinionatedreaderblog.wordpress.com/