Title: Literary Witches: A Celebration of Magical Women Writers
Writer: Taisia Kitaiskaia, illustrated by Katy Horan and forwarded by Pam Grossman
Publishing House: Seal Press
Date of Publication: October 10th 2017
Rating: 5 stars
''Why would we dare call someone a Literary Witch? Because all artists are magicians, and Witches wield a special magic. Witches and women writers alike dwell in creativity, mystery and other worlds. They aren't afraid to be alone in the woods of their imaginations or to live in huts of their own making. They're not afraid of the dark.'' *
If we come to think of it, Literature is a form of magic witnessed everywhere. We often say that books transport us into a universe of their own, into places and worlds we may never visit in person. Writers use ''spells'' made of words to reach our minds, our hearts and souls. To help us ''see'' and understand. Now, let us turn our attention to women who chose to dwell on the paths of the literary world. Why were ''witches'' called thus? Because they ''dared'' decide their own fate, refusing to let men and society dictate their lives. Because they wanted a voice of their own and ''dared'' to express it. This is what women writers achieved. They went against the current of their era, against prejudices, notions of propriety and any form of ''must'' and ''must not''. They used fables, Folklore, poetry, allegorical imagery to make their presence known. They showed that women have voices that can be heard far and wide, no matter how much certain people would like them to be silenced. They became the figures that turned dry literature into a mystical, haunting world.
Emily Brontë
Anna Akhmatova
''A bird of blue bones drops a piece of paper into your hand. The paper unfolds into a palace. You step in through the door. A cold wind blows through the hall, and you hear faint music. Each chord sounds a different note of silence. You keep going.''
Enriched with beautiful, gothic-influenced portraits of each woman created by Katy Horan, whose work is simply marvelous, Taisia Kitaiskaia imagines the vastness of these women's minds and the ''spells'' they cast to revive and transform Literature forever, Well-known writers and quite a few obscure ones. It's an immense pleasure to discover new women writers who delved into the realms of myths, feminism and short stories like Yumiko Kurahashi whose work I can't wait to visit. The literary sceneries created by Kitaiskaia are powerful, haunting, terrifying in their directness and clarity. I was astonished by Horan's illustrations. They embody the atmosphere and style of each writer in a way that no biography will ever be able to.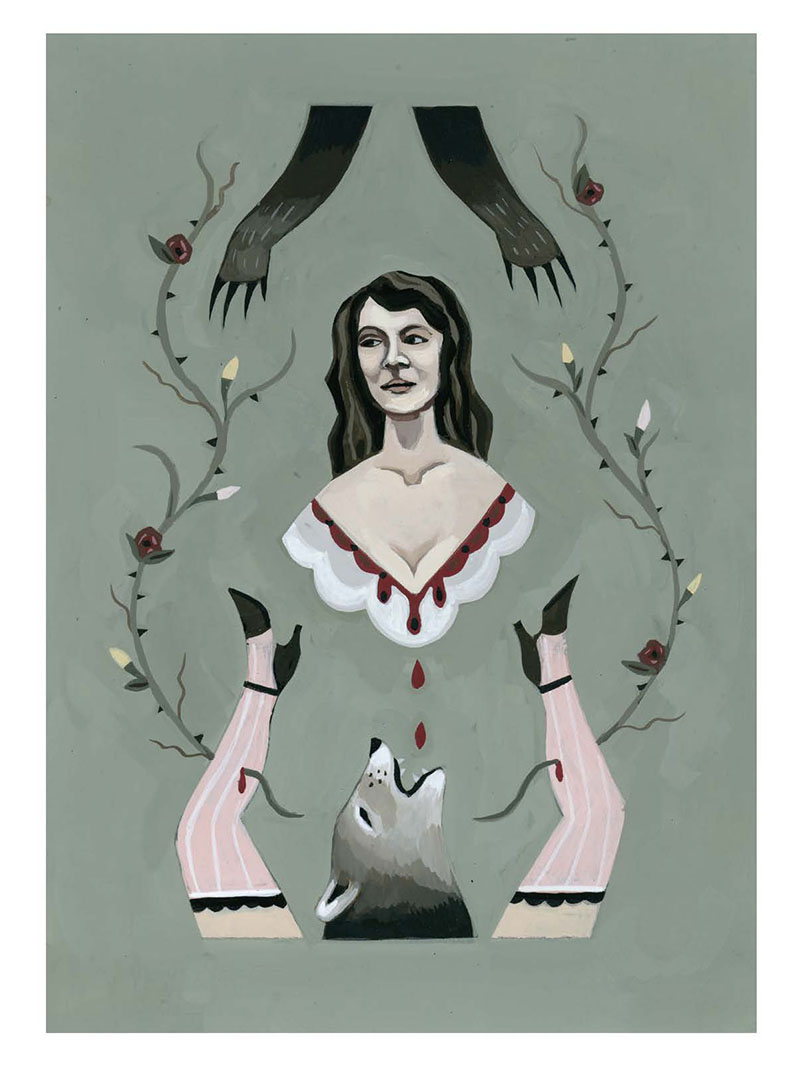 Angela Carter
''At night, no matter what she does. Mary's laboratory becomes a cemetary. Lantern becomes moon, instruments become shovels, tables turn to coffins. Mary sighs. She places her hand into the enormous, awkward paw of the waiting Creature, and they walk together among the graves.''
What was lurking inside Emily Brontë's mind as she conceived Heathcliff, one of the greatest characters in Literature? The haunting call for a love that anyone could defeat. How did Shirley Jackson achieve such amounts of horror in the heart of ordinary communities? When Eileen Chung created bitter tales of doomed love? Before Sylvia Plath chose an end that made Literature poorer and a little more mundane? When Anna Akhmatova gathered her pieces to attack one of the creators of Terror in the European continent? Joy Harjo wrote hymns to the wild nature that nurtured her ancestors. Sappho became the Tenth Muse. Emily Dickinson created elegies, wondering in the Amherst woods, Audre Lorde wrote about womanhood, sexuality and a haunting female universe. Angela Carter created violent masterpieces out of our favourite childhood fairytales. Zora Neale Hurston delved in strange ceremonies, created dark stories and became one of the most prominent figures of the Harlem Renaissance. Agatha Christie's mind gave birth to exciting mysteries and wonderful, immortal characters.
Zora Neale Hurston
Sylvia Plath
These are but a few of the Literary enchantresses that grace the pages of this beautiful book. The haunting, eerily moving writing by Kitaiskaia, the incredible artwork, the Recommended Reading sections will definitely please every lover of Literature, every reader who sees the literary world as a mystical, dark, soulful, ever-changing spell…Like female nature.
''And I've come to realize that the Witch is arguably the only female archetype that has power on its own terms. She is not defined by anyone else. Wife, sister, mother, virgin, whore – these archetypes draw meaning based on relationships with others. The Witch, however, is a woman who stands entirely on her own. She is more often than not an outsider and her gift is transformation. She is a change agent, and her work is sparked by speech, an incantation, a naming, a blessing, a curse…''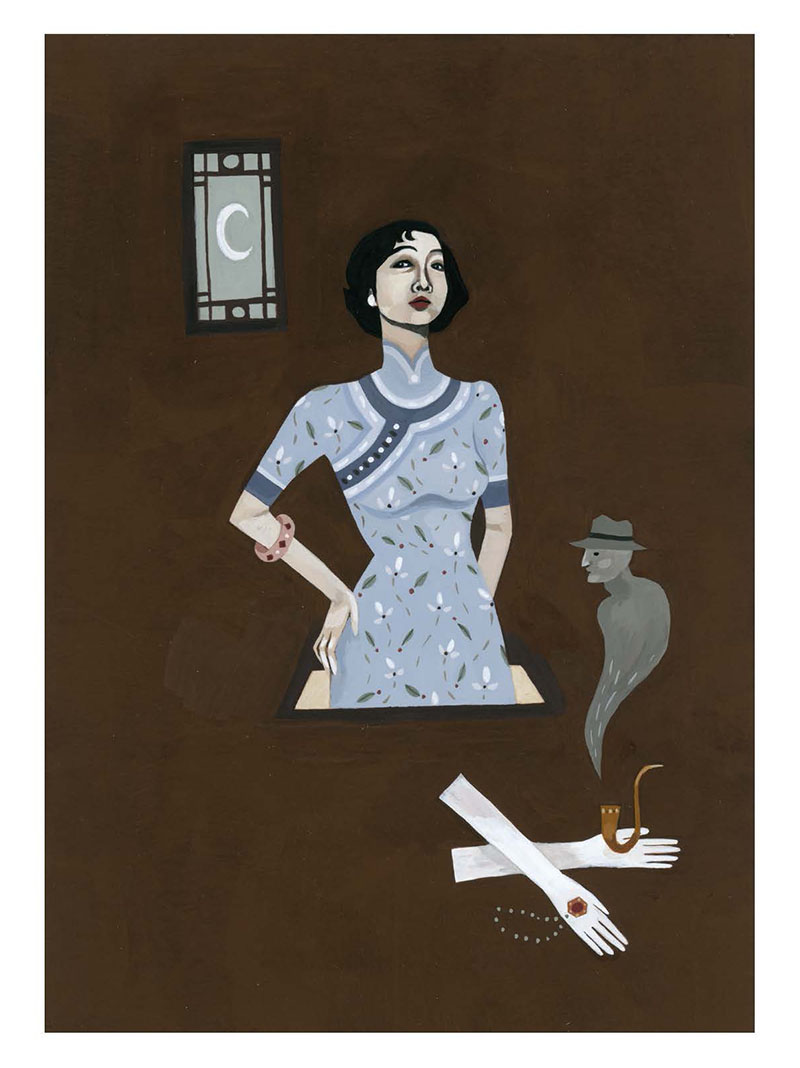 Eileen Chung
Mary Shelley
Toni Morrison
*All illustrations by Katy Horan*