Title: Melmoth
Writer: Sarah Perry
Publishing House: Serpent's Tail
Date of Publication: October 2nd 2018
Rating: 5 stars
''Look! It is winter in Prague: night is rising in the mother of cities and over her thousand spires. Look down at the darkness around your feet, in all the lanes and alleys, as if it were a soft black dust; look at the stone apostles on the old Charles Bridge, and at all the blue-eyed jackdaws on the shoulders of St John of Nepomuk! Look! She is coming over the bridge, head bent down to the whitening cobblestones.''
A manuscript that finds its way into Helen's hands. Helen. A woman that is in a self-inflicted limbo, punishing herself, trying to appear unnoticed through the shadows of a city where mysticism has woven an eternal veil. A woman of mystery, a tale of a dark presence lurking a little behind of all of us, waiting for the moment of the great fall, of despair and cruelty and sorrow. This is Melmoth by Sarah Perry. The finest book I've read this year. The closest to my heart, following Wuthering Heights.
When I turned the last page, I found I had tears in my eyes. I couldn't speak. The reasons are many, I won't add them here but the moving beauty of Perry's writing cannot leave you indifferent. This is a hymn, an homage to the unique, magnificent city of Prague, a capital very dear to me. A city of culture and spirit. A city where light and darkness battle with each other, its corners the habitat of legends and ghosts. Try walking in its cobblestones streets during the night. Even the most skeptical of you will start looking around and behind in apprehension, hearing footsteps perfectly synchronized with yours. The Vltava, the Old Town Square, the astronomical clock and Charles Bridge. The Black Lights shows, one of the most well-known cultural attractions of Prague. A city that is probably the most haunting in Europe, along with Edinburgh. Having visited Prague twice, I can say that Perry's nightly descriptions are so vivid and frightening. The city becomes a major character in this outstanding story and I can think of no better setting for Melmoth's field of action.
''It is for the Wanderer'', he said. 'For the Witness- for she who is cursed to walk from Jerusalem to Constantinople, from Ireland to Kazakhstan; she who is eternally lonely, who is excommunicated from the grace of God and the company of men; she who watches, whose eyes are upon you in your guilt and transgression.''
But who is She? What is this presence that causes such terror? Melmoth the Witness. A fascinating legend of a woman who sees the empty tomb following Christ's Resurrection. Unlike the other women, she lied about what she had witnessed and was condemned to roam the earth with her bleeding, bare feet, witnessing the despair and cruelty of the human race, forever lonely, feared and despised. This is the figure that haunts Helen's steps…
''She finds herself unwilling to raise her head to the window, as if she might see beyond the glass a face with an expression of loneliness so imploring as to be cruel. (And since she will not look, you must.) ''
In chilling, eerie sentences, Perry creates a kind of atmosphere unlike anything I've ever read, dearest friends. She transforms windows into threatening objects due to the darkness that is lurking behind them. I never liked windows when the curtains were drawn aside. My mother has told me that even as a baby I would nail my gaze to the window, unblinking. When I grew up, I always asked for someone to close the curtains. I still do that, even in gloomy, wintry mornings. So this fact alone in the novel brought me in a state of serious terror. I genuinely avoided reading it unless I had company in the house. Even at noon, I found myself nervously looking around me or at the window. I had goosebumps. The combination of windows and black cladded figures had me shivering. I know, I'm weird….
''Brother, didn't you expect to find me here? Don't you know me? Don't you know my name? I, who was your mother's pain as she gave birth? Didn't you see my shadow on the page as you went about your work? Didn't you feel me at your shoulder as you sharpened your pens into knives?''
''Do you think you can atone for all you've done? Do you think there's enough blood in you to settle the debt?''
Melmoth is there to witness the cruelty, the ultimate violation created by the human race, all the wars and genocides over the centuries. My favourite story-within-a-story was Josef Hoffman's. Josef and his family are German living in Prague, devoted Nazists due to their maddening notion of lineage and supremacy. The Second World War comes and goes and the time of the reckoning is at hand. Melmoth jumps to the calling. There were many devastating descriptions of the city during the era of the occupation by the Nazi monsters. The events that influenced Josef's family are powerfully described and yet, I couldn't feel a single ounce of sadness over their fate. Often, you get what you deserve and the blood of millions of innocents cried for justice. Melmoth's words at that point are Truth personified.
''Sir, have a care, lest her eye be on you,, for her loneliness is terrible, and she will not withstand it.''
Perry breaks the Fourth Wall throughout the course of the story. Her writing style isn't easy. This isn't a mere thriller like the ones that are nowadays mass-produced, devoid of any substance. It requires patience, the right mentality. It requires attention and thought. It requires patience. This is what happens with Literary Fiction, it prevents us from becoming lazy readers. Why complain about a book with many characters and multiple narratives? This is what makes a book rich, challenging, meaningful. Many times, Perry's exquisite writing reminded me of Oscar Wilde's apocalyptic, breathlessly dark descriptions. The spaces, the rooms, the settings are outstanding. She creates anticipation, sheer terror by a simple description of the shadows of the curtains and the furniture in a hospital room… This is how perfect a writer she is. Any references to Dvořák's Rusalka always melt my heart. Also, as in her masterpiece The Essex Serpent, there is a very balanced, very interesting focus on religion and the way it is perceived by each one of us in our daily lives.
Read these quotes and immerse yourselves in absolute beauty:
'' Look! It is evening now, and no snow falling: the cobbles on Charles Bridge and in the Old Town Square are glittering and treacherous and every minute someone somewhere falls. Master Jan Hus in his winter cloak looks silently over the crowd: you might think, were you so inclined, that he is recalling how once he wore a proper hat on which painted devils danced, and walked to where the fires were banked to burn him.''
''A minute passes and an eerie sound rises from the east of the river, then from the west; from behind the National Theatre with its golden crown, from the ticket booths and pizza stalls, from the Black Lights theatres and the library at the Klementinum, where a student at desk 209 turns the pages of a textbook. It is a low note, melancholy, ringing up from the pavements and down from the eaves of apartment blocks.''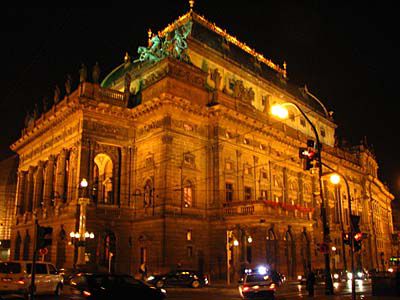 (The National Theatre in Prague)
I cannot say much about the characters because it would a major spoiler in itself but know this: I seldom find a novel where each character could have been the protagonist of a new book. Helen will stay with you for a long, long time. If she doesn't, you need to be attention, I'm sorry to say.
In the end, words cannot possibly convey the bonding between this novel and me. We are made for each other, I cried upon reaching its final pages, its outstanding last four paragraphs are an example of the finest Literature I've ever encountered. I have loved Melmoth so much that I've placed it in a very special place in my heart, side-by-side to Wuthering Heights. Those of you who know me well, know what this means. Melmoth is a book unlike any other. A place where darkness, despair, hope, and endurance form a masterfully choreographed danse macabre. It came to find me in a very particular moment in my life. I cannot thank it enough…
''And I saw what you did when you shouldn't have done it – I know what thoughts plague you most, when you cannot keep hold of your mind – I know what you cannot confess – not even alone, when all the doors are bolted against your family and friends! I know what a fraud you are, what an impostor – you never had me fooled.''
Many thanks to Serpent's Tail and Edelweiss for the ARC in exchange for an honest review.