Title: The Diary of A Bookseller
Writer: Shaun Bythell
Publishing House: Melville House Publishing
Date of Publication: September 4th 2018 (first published September 28th 2017)
Rating: 2 stars
These are the experiences of Shaun Bythell, a bookseller in Wigtown in beautiful Scotland, in diary format. The working days, the customers (problematic or not), the co-workers, the struggle to support a second-hand bookshop (the second largest in the country) in the era of technology, everything that makes bookselling such a fascinating and exhausting profession is included in this book. Despite the positive reviews and my high expectations, I have to say that I didn't enjoy reading this at all….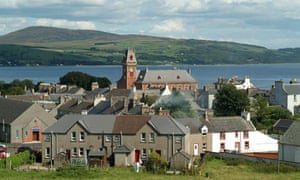 (Wigtown, Scotland)
There were two things that won me over and kept me going. The experiences of the author- sometimes, they proved to be real adventures- while trying to find the most appropriate books for his shop and the stories of the people linked to them. Their deceased owners and the ones that stayed behind and had to part with the books. Some of them. The rest were cruel monsters but anyway. Another interesting part is the connection of the bookshop world with Amazon and the importance of the online market in general. It was sad to learn how a mere rating in a dubious platform could influence your overall effort despite all your hard effort. In our digitalized, fast-food era, online purchases are vital for the survival of any shop. It further cemented my conviction not to support Amazon, a stance I've been supporting for years. On a lighter note, there were certain titles that were absolutely hilarious. Not one to judge but it definitely makes you wonder why people sometimes choose specific books. Do they buy them for the sake of research or have they organised their priorities wrong? These were the most amusing features of the book, in my opinion.
Unfortunately, here end my positive thoughts regarding The Diary of a Bookseller. Apart from the content, I always pay attention to the overall tone, the ''voice'' of the writer, especially when it comes to Non-Fiction and in this case, there were quite a few moments that made me contemplate whether to stop reading altogether. Forgive me for saying this, but there is a fine line between sarcasm and rudeness and, in my opinion, Bythell crossed it. He didn't strike me as the most sympathetic person on the planet. I'm not referring to his behaviour towards the customers (although it was definitely questionable at times) but to his overall thoughts and assumptions. Perhaps it is a matter of cultural difference but certain parts left a sour taste in my mouth. Needless to say, the majority of the customers mentioned in the entries were excruciatingly ignorant so these were the only moments when I felt that his responses could be justified. Furthermore, I found his posh, high-brow attitude towards Fiction rather unfair and, in all honesty, tiresome and absurd. His comments over ''large'' (as he calls them) customers sounded problematic as did his observations over ''female'' customers. And truthfully, repetition over statuses or problems he had been facing with an employee day after day made this an extremely mundane read.
Perhaps the most interesting feature was the inclusion of George Orwell's quotes on books, readers, and bookselling at the beginning of each chapter. I can see why many readers would enjoy The Diary of a Bookseller but the writing failed to engage me and gave me quite a few problematic moments. Therefore, I cannot possibly rate this with more than 2 stars (not that it matters, obviously) and naturally, it can't hold a candle to Jen Campbell's The Bookshop Book.
Many thanks to Melville House and Edelweiss for the ARC in exchange for an honest review.