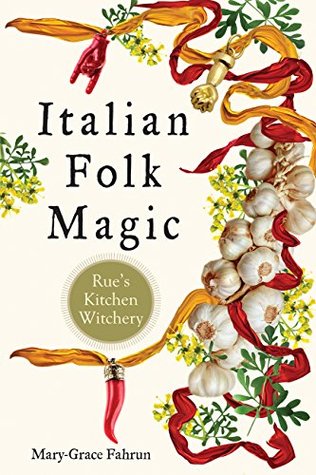 Title: Italian Folk Magic
Writer: Mary-Grace Fahrun
Publishing House: Weiser Books
Date of Publication: May 1st 2018
Rating: 5 stars
''A buon intenditore poche parole.''
(''Few words are needed when speaking to a good listener.'')
This review is bound to be one of the most personal I've ever had the pleasure to write. You see, my late grandmother was Italian, from Naples. She is the main culprit to blame for my obsession with books and Opera. My parents are dedicated readers but when I was a child and mum and dad were at work, I was placed under my Nonna's care. She filled my hands with books and my mind with stories from her childhood, her homeland, her life with my grandpa whom I didn't have the fortune to meet. She loved History and stories of ghosts and fairies. Even during the school holidays, I would wake up early, sit on the comfy sofa made from Italian velvet, listen to the morning news on the radio, smelling the wonderful aroma of espresso loudly brewing in the background. When I became an adult, there was always a cup waiting for me when I returned from the classes. When I started working, the double espresso would warm my heart before another demanding day. Now, I live in her house. I talk to her as I'm cooking some of her favourite Italian dishes. I know she's here, smiling, probably remembering my fervent declarations of refusing to learn how to cook because ''I'm a career woman.'' Fahrun's book brought all these memories back from the very first pages.
*Meet my mum, Matina (left), my uncle Enrico (middle) and my grandmother, Maria (right). Photo taken in Naples in 1963.*
In this beautiful, lovingly written creation, we learn about traditions from Italy that touch on every part of the daily life. Food, work, love, marriage and children. Remedies to heal the Evil Eye and the negative spells. Proverbs, superstitions, home medicine and witchcraft. The way Fahrun describes her personal memories is direct, friendly, soft. Like a chat over two freshly brewed cups of fine espresso. There were so many moments that made me love this book. The writer's affinity for crows and ravens, the care for saint altars in the kitchen. The respect over frogs and geckos. Me and my mother have a small gecko living somewhere in the balcony. We call him Leo and always look out for him each time we water the flowers. Malocchio (the Evil Eye) is still something we're quite cautious of. I don't believe in it, to be honest, but there have been a dozen of occasions that have tempted me to change my mind.
*My grandma in Venice in 1970*
*And in the Eternal City in 1979*
So, whether one believes in the magic and the rituals born from the very essence of the Italian nature, heart and soul is irrelevant. Everyone will find something to love in this lovely book. It is a treasure of Folklore and tradition. For me, it was a moving journey to my childhood and to the everlasting memory of someone who influenced my life in the best way possible. My grandmother to whom this review is dedicated.
''Buon principio fa buon fine.''
(''A good beginning makes a good ending.'')
*Our family breeds History buffs like crazy. In Pompei in 1979*