Title: North Wales Folk Tales For Children
Writer: Fiona Collins
Publishing House: The History Press
Date of Publication: May 2nd 2016
Rating: 4 stars
"…under the stone, two dragons are curled up, fast asleep. All day, they sleep, but at night they wake, and then they fight. Their battle destroys your tower each night."
Wales, lovely, mysterious, mythical Wales… A land of heroes and gods, a place where myth and history walk hand-in-hand only to be lost in times unrecorded, misty and shadowy. This beautiful little book is dedicated to the Northern part of Cymru, home to the legendary area of Snowdonia and Ynys Môn and to three World Heritage sites.
(Porth Dafarch Cove, Anglesey)
Known once as the Kingdom of Gwynedd, North Wales has an endless wealth of traditions and folklore. We will meet a giant and a giantess who fight over a hammer. A clever boy named Gareth (…Wales seems to have an abundance of handsome, talented men called Gareth….) with a lovely companion. A princess who wants nothing else but to look after the ones in need. A marriage between the Eagle and the Owl. A maiden who attempts to soothe a monster with her haunting songs. Fairies, wizards, dwarves and mythical kings, queens, and heroes. The Once And Future King, Arthur and his Knights, the legendary Branwen and Ceridwen. All these figures are hiding in this marvelously-written book waiting for us to discover them. Don't worry, we're all children at heart, especially when we're presented with beautiful fairytales of heroic deeds and otherworldly creatures.
(Snowdonia Mountains)
The brightest spot of the collection rightfully belongs to a wizard who changed the course of World Literature and Art, in general. And don't tell me he never existed because you'll be horribly wrong…In the story Two Dragons, young Merlin and King Vortigern meet for the first time to solve the problem of a tower that would crumble to pieces every night. A well-known story of Merlin's genius and of how the majestic Red Dragon of Wales was born. Not to mention that the Welsh flag is possibly the best ever…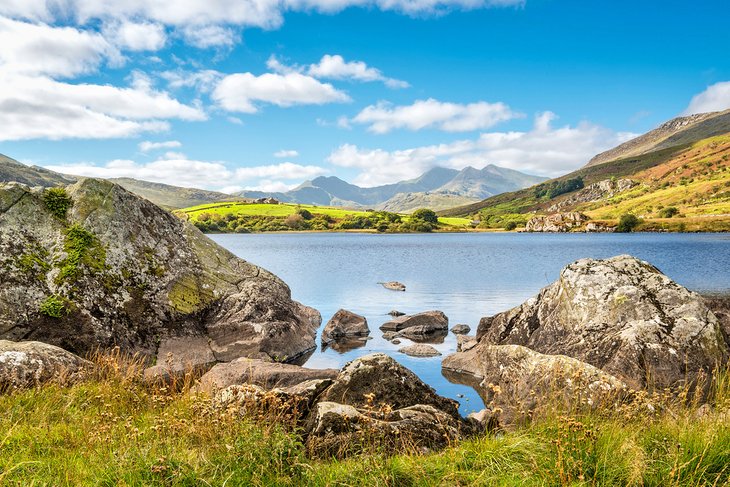 (Snowdonia National Park)