Title: The Sunlight Pilgrims
Writer: Jenni Fagan
Publishing House: William Heinemann
Date of Publication: March 24th 2016
Rating: 5 stars
''There are three suns in the sky and it is the last day of autumn- perhaps for ever.''
Since Dystopian Fiction is one of my favourite genres, The Sunlight Pilgrims had been on my list for quite some time. When one has read a significant number of Dystopian novels, the risk to feel that what you read is one of the same is always present. Thankfully this is not the case with Jenni Fagan's brilliant novel. It is beautifully written, full of emotions and with brilliantly developed themes that center around human beings and their feelings within the context of a threatening environment as Nature takes her revenge on the ones who have been violating her mercilessly for decades and decades.
The year is 2020 and we are in Scotland, in a place called Clachan Fells that corresponds to the area of Campsie Fells, in central Scotland. The heaviest winter in the last 200 years has arrived and with it a terrible threat all over the world.An enormous iceberg is rapidly heading towards Britain and the casualties begin only to progress to unimaginable numbers. Three exquisite characters come together at this point. Constance, a bright young woman, feisty and brave. Stella, her daughter, who hides a shocking (to some) secret of her own. Dylan, a young man, full of doubts and despair. The relationship and the feelings of these characters are the focal point of the novel, making it as rich and fascinating as it is.
(The Campsie Fells via Wikipedia)
''It's old Mother Frost. She wants her wolves back.''
The story is beautiful and terrifying. The white of an endless winter, the dark of the longest night compose a striking canvas upon which the lives of our characters unfold. How can something so beautiful be so threatening? How did we come to this? Why do humans destroy everything they touch? Why do they vilify everything they don't understand? These are the questions Stella asks, reflecting on her own life and the danger she faces, not from Nature but from humans who are the greatest criminals, hypocrites, destroyers. It is recklessness and narrow mindedness that has brought everyone to point zero and the children still aren't taught to respects the others. Therefore, what kind of future can really exist?
Fagan's talent is more than evident. Without missing the importance of the setting she created, she finds the balance between a potentially apocalyptic world and the fact that emotions know no such boundaries. Love, hope, fear, regret still exist and bring us together if we let our own ice melt for a moment. She creates vivid dialogues with a poetic touch and an almost whimsical language, particularly in Stella's speech and thoughts. While Fagan describes the casualties, the riots, the havoc that has affected the citizens of the planet (…would that they had known better….), she creates images of the Bonfire Night, the fairy lights and the Christmas decorations, the snowflakes in all their quiet beauty. We have unique autumnal and wintry scenery descriptions and, possibly, the finest passage about sexual intercourse I've ever read. She deals with issues and themes, which would have appeared mundane or even gross in the hands of an incompetent writer, with grace and raw emotions where needed. This is how a good book is written.
A good book, friends, doesn't restrict itself into labels. Is it YA or not? I don't know. Is every novel that includes a teenage character a YA story? Who cares? Why is this important? What we should find attractive in The Sunlight Pilgrims is the fact that the themes of acceptance, tolerance and self-discovery within a world in danger are masterfully communicated. The rest are for argumentative reasons just because. This is not a post- apocalyptic universe. This is a very tangible reality that is closer than we think.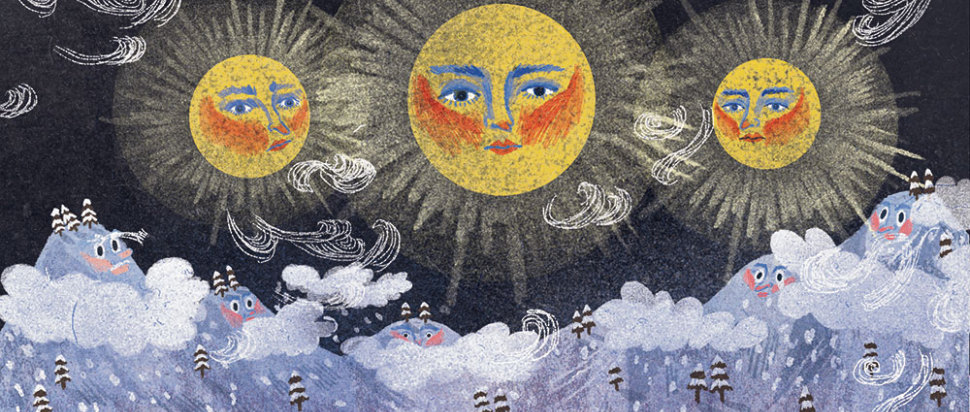 (Sunlight Pilgrims by Eunjoo Lee)
''…a woman who polishes the moon.''
I can't begin to describe my admiration for the character of Constance. A dreamer, an idealist and a pragmatist. A mother who goes above and beyond to create a safe haven for her child, both physically and psychologically. And this is what terrifies most of those who come in contact with her. This is why Dylan- a wonderful character- falls in love with her. Because, he is honest with himself and unafraid to face his demons.
''She is the fire and her daughter is wind.''
Stella must be one of the most unique, most complex and sympathetic characters ever written. Faced with a seemingly impossible choice, she is sure of herself and her needs and fights for her beliefs. A true child of her mother, she has the unfortunate fate to live in a world that doesn't understand. So, she makes it her mission to make them understand. Not only for herself but for the future of all those she loves.
If one wants to read a story where creatures like the White Walkers invade a frozen planet of where frozen zombies chase rugged-clothed survivors, then this book isn't a suitable read. You can watch Hollywood productions. If you want to read one of the most hauntingly poetic novels, then The Sunlight Pilgrims will not disappoint you.
"…the child of a wolf may not feel like she has fangs until she finds herself facing the moon, but they are still there the whole time regardless."
Here is a marvelous review of The Sunlight Pilgrims (http://www.theskinny.co.uk/books/features/sunlight-pilgrims )