Title: A Woman in the Polar Night
Writer: Christiane Ritter
Publishing House: University of Alaska Press
Date of Publication: July 15th 2010  (first published 1938)
Rating: 5 stars
''Νο, the Arctic does not yield its secret for the price of a ship's ticket. You must live through the long night, the storms, and the destruction of human pride. You must have gazed in the deadness of all things to grasp their livingness. In the return of light, in the magic of the ice, in the life-truths of animals obsessed in the wilderness…lies the secret of the Arctic and the overpowering beauty of its lands.''
I live in a country where the sun always finds a way to shine its light on us, even during the bleakest wintry days. Most normal people consider this a blessing. Me, on the other hand? You guessed it right! Being the weirdo that I am, I hate it with a vengeance. I just can't stand sunshine and heat. When I had the opportunity to visit Finland a few years ago, I experienced the winter night and it was one of the most fascinating and happiest moments of my life. I mean, give me darkness and cold and I am a happy camper. I am also mad, but that's okay. Still, nothing and noone can possibly prepare you for the circumstances Christiane Ritter describes in her beautiful book.
What a striking title…A beautiful cover and a fascinating woman who, despite all the odds, defied conventions, ignored every risk and followed her husband to an expedition in Svalbard, right in the heart of the Arctic. Christiane Ritter, an Austrian painter who died in 2000 at the age of 103, travelled to Norway in 1934 and found a land of immense beauty, silent and primal. Her account of the year she spent in Svalbard is a beautiful homage to the special landscape of the Arctic, a land that I often call ''a planet within a planet''.
''The conflict between the weakening light of day and the triumphing light of the moon creates bewildering contrasts in the very clear, violently bleak landscape. New scenes appear whenever the sky lightens.''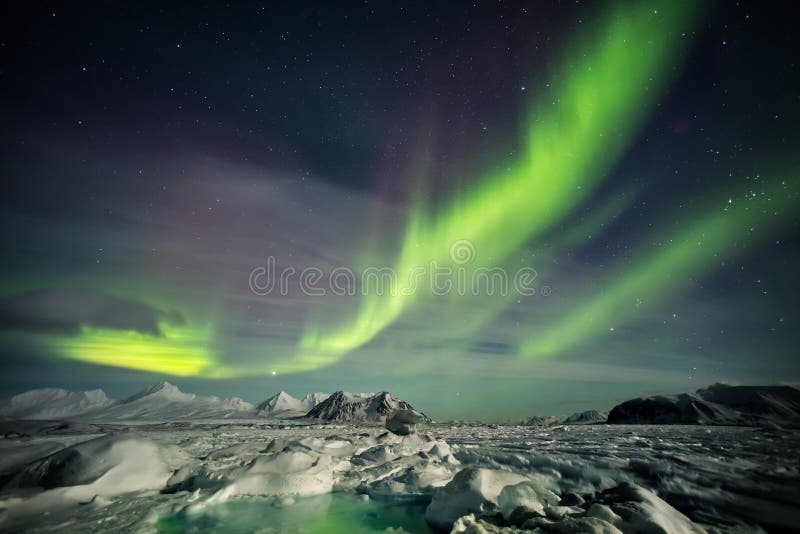 This book contains treasure found in each page. Chrissie's descriptions of the preparations for the coming winter, the hunting, the animals that used to be completely unknown to her, the magnificence of the fjords are fascinating but nothing compares to the chapters dedicated to the fortvilelse of the polar night, the enchantment, the bewildering and threatening glory of the night that never ends. She describes the last moment before the sun sets and the waiting for the darkness that will last for months in a chilling way, so vivid and almost ominous that brought chills even in a rather warm and humid Athenian May evening. The smoke that clinged on the floor and walls of the hut, the black landscape lit only by the whimsical starlight, Karl's songs in the silence of the everlasting night…What setting could be more striking?
(This is Christiane and Hermann in Grahuken, a photo included in the book)
''Don't go for walks alone'', says Karl. ''It's a dangerous time. Seven weeks before Christmas the graves in Svalbard open.''
It is to be expected that my favourite parts are the ones dedicated to the beautiful, mystical Norwegian folklore. Ritter narrates Karl's stories and the legends told by the sailormen and it is no surprise that most of them are related to death and the spirits of the dead. What kind of stories could be born in a land where the long night reigns, where the shadows acquire an otherworldly colour under the glorious veil of the Aurora Borealis…
This is a haunting, beautiful account. It's not a dry log book. Far from it. Ritter included dialogues which made the reading experience even more interesting and direct and I felt I was reading a novel of the finest quality. It is a calm, grounded narration from an immensely brave, considerate, determined woman, a striking personality who fell in love with the most beautiful spot of our planet. It is a pity she wasn't allowed to return there…If you aren't already in love with the Arctic and its enchantments, then this book will definitely help you come a little closer to the never-ending magic of the polar nights…
''…the world out-of-doors falls into deepest night. The mountains are no more than white shadows, the sea no more than a black shadow- until that too dissolves away. And then everything is dead.''
(Svalbard, a magical beauty, a haunting destination in Norway. Image source :https://earth.esa.int/web/earth-watching/historical-views/content/-/article/svalbard-norway-landsat)