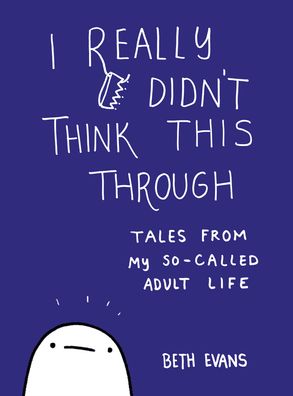 Title: I Really Didn't Think This Through
Writer: Beth Evans
Publishing House: William Morrow Paperbacks
Date of Publication: May 1st 2018
Rating: 5 stars
''Ugh, why do I have feelings? I'm the worst.''
I won't bore you with details on how good Evans' writing is. That's not the point although I can assure you that the way she talks to us is delightful and direct.  What I feel is important is her bravery to share experiences that are difficult, bleak, painful with the readers without ''mourning'' fate or accusing others, without self-pity or the fake arrogance of many similar memoirs. This is what made me appreciate Beth Evans' book so much.
Beth has been through stages of OCD, depression, anxiety, self-harm. All are issues constantly faced by people of all ages. Issues that continue to grow but thanks to books such as this one, the taboos are steadily broken and no one has the right to say ''I didn't know''. Hiding the problem under the carpet according to the dictations of society must become a thing of the past. Evans has no ready answers. She narrates her story and focuses on the conditions that helped her overcome the difficulties at that given moment. She is honest regarding relationships within the family and the social environment and often stresses the fact that there are no miracle solutions. It takes much effort and toil and you're never completely free from your demons but you need to acknowledge the problem, ask help and fight with the support of those who love you. And I feel that this is the most important lesson Beth's experiences can teach us.
The illustrations are delightful and poignant without destructing from the main purpose of the book.
Many thanks to William Morrow Paperbacks and Edelweiss for the ARC in exchange of an honest review.