Title: The Lost Path 
Writer:  Amélie Fléchais
Publishing House: Lion Forge Comics
Date of Publication: March 28th 2018 (first published June 19th 2013)
Rating: 4 stars
''Once something is in the forest's clutches, it doesn't easily let go…''
After the highly enjoyable experience with The Ghost, the Owl, my current mood for interesting Gothic comic books brought me to The Lost Path.While not as poignant and thoughtful as The Ghost, the Owl, The Lost Path was very interesting and rich in beautiful illustrations.
The story starts with a mysterious curse that falls on a young couple who chose to live in a strange forest. The young woman feels that something is amiss but her husband can't see a thing in front of his nose and this leads to a spiral of events. In our times, the children that decide to venture into this mystical habitat find themselves in an adventure beyond their wildest dreams.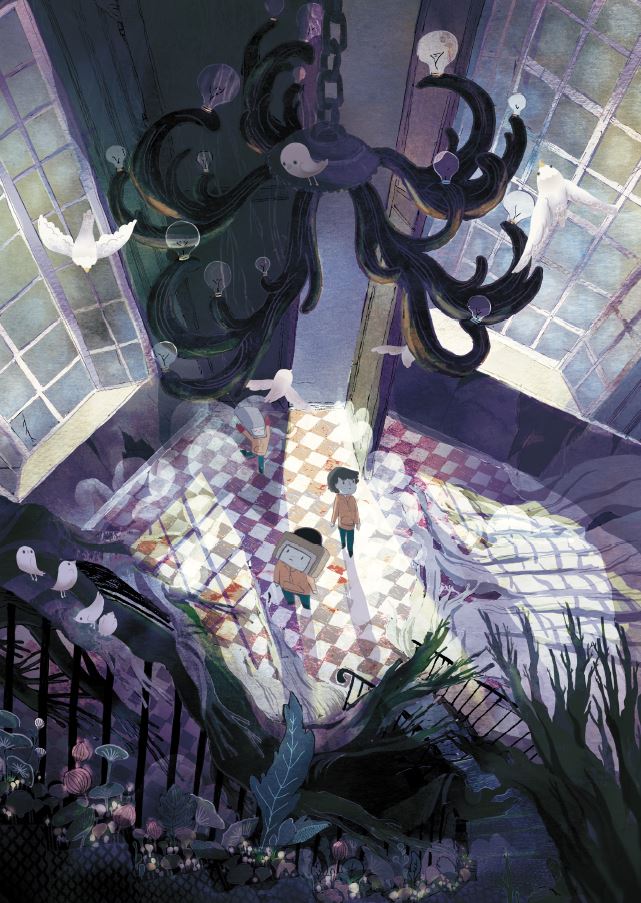 The Lost Path is like a fairytale. Actually, ''like'' isn't correct. It IS a modern fairytale inspired by traditional narratives and fables. Every country has an extensive collection of forest myths, with lost children, mystical creatures and forces in disarray, from The Little Red Riding Hood to the haunting Russian tales. This story by Amélie Fléchais is rich in beautiful imagery, the illustrations being the major force of the comic. I loved the wide variety of the techniques, the change of colours and style. I think they're a beautiful mixture of realistic drawings and Gothic colours, enriched with a Chinese influence evident in the depictions of the faces. The dialogue is very entertaining and I think that this is a comic book appropriate for younger audiences regarding the subject matter and the illustrations.
Following the recommendation of my dear friend Marina (please visit her beautiful, magical blog here: https://booksofmagic.wordpress.com/) my next stop will be Anya's ghost by Vera Brosgol.
Many thanks to Lion Forge, NetGalley and Edelweiss for the ARC in exchange of an honest review.