Title: Lancashire Folk Tales 
Writers:  David England, Jennie Ruth Bailey
Publishing House: The History Press
Date of Publication: June 1st 2014
Rating: 3 stars
"Sir Lancelot, you may be surprised to hear, has a close association with the county. 'Lanc' is the Celtic term for a spear, and 'lot' refers to the people of the land, hence 'Lancelot's shire' or as it is known today 'Lancashire'. "
Lancashire. A county in north west England, its history lost in the days of the Anglo-Saxon age. Manchester and Liverpool, its largest cities, have made their mark on the national and European character. from the trade and the industrialism to music, sports, theatre and pop culture. And the myths? From the Pendle Witches to haunted mansions and roads, cemeteries, churches and inns. In a quick research on the trusted Net, I discovered witnesses that claimed to have experienced UFO sightings, all the way from Blackpool to Bolton, to Burnley. The region of Greater Manchester seems particularly haunting. Therefore, I was more than excited to start reading the Folk Tales dedicated to the Lancastrian supernatural and legendary figures. Alas, I was disappointed….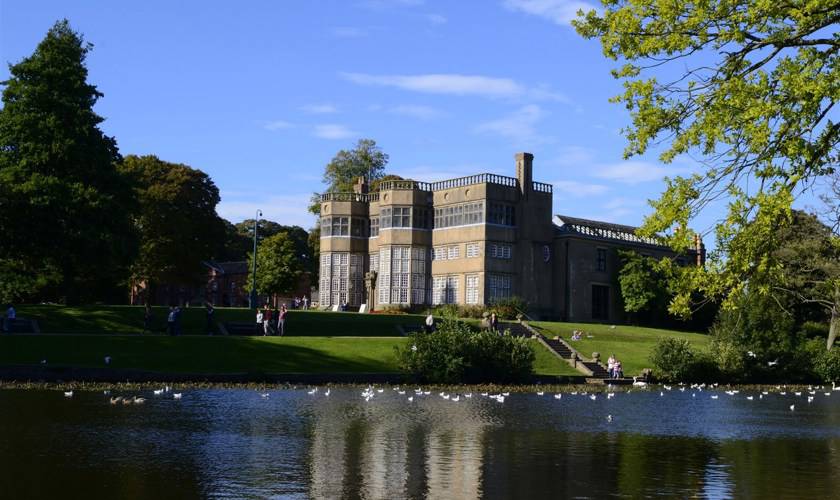 Astley Hall
Fred and Lily, a lively couple, are our guides to every corner of Lancashire county. While the narration is interesting, I don't think the writers understood what the phrase "Folk Tales" means because a significant part of the book is just history and has nothing to do with fables and traditions. At least, this is how I see it.
The chapter that stood out was the one dedicated to Liverpool legends. I loved the Liver Birds story. The tales from the borough of Rochdale were equally fascinating. I mean, there is a phantom bunny which haunts the churchyard of St Mary in the Baum. The story of princess Fatima and her harp is haunting and sad. The ordeal of the fair Ellen of Radcliffe was terrifying, reminiscent of ancient Greek myths. John Dee, one of the most famous magicians and all-around charlatans in the Elizabethan court, couldn't be absent. The traditions and superstitions from the Fylde were exciting, especially the customs of the funerals. Naturally, witches are present with a chapter dedicated to the Pendle trials which are wonderfully depicted in "The Daylight Gate" by Jeanette Winterson. The Notes on the Tales at the end of the book was an appreciated addition.
Pendle Hill , Lancashire
The stories related to a number of the most important families in Lancashire dating back to the Anglo-Saxon age were not interesting, in my opinion. I don't see why they were included in a collection of folk tales. Also, there was too much sexual innuendo in many of the chapters, completely inappropriate for the stories they tried to describe. The writing leaves a lot to be desired. It is uninspired, flat, it lacks the cozy feeling present in the other books of the History Press series. The writers tried to create a travelling memoir style but they tried too hard and it shows…Their attempt comes across as pompous and pseudo-humorous.A shame, really, since Lancashire is a land of history and myth. Unfortunately, the writers failed to make me feel engaged and hold my attention. Thank God for the beautiful sketches that set the atmosphere because Jennie Bailey and David England didn't succeed.
The journey to Lancashire wasn't particularly successful….
Historic City of Lancaster. © visitlancashire.com